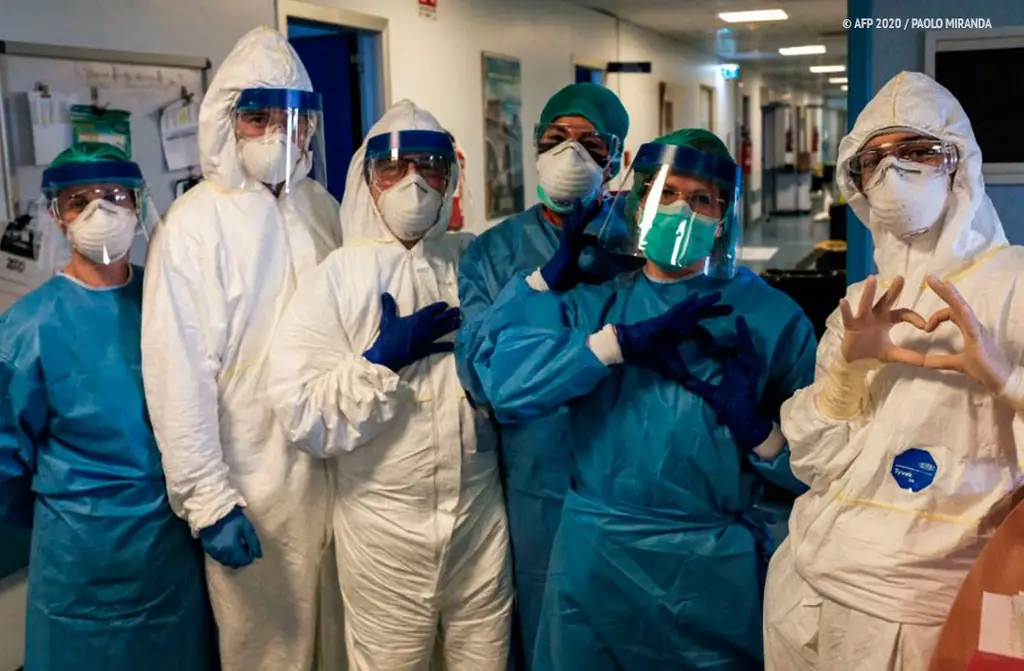 Superhumans at the forefront of the fight against coronavirus
Everyone is scared. Someone will get infected, someone will infect, someone will not get out, someone will not be able to save. And yet someone with all his might is saving. We cannot see what we are not accustomed to. The situation forces us to accustom ourselves to see others, to feel together, in order to overcome the threat of coronavirus together …
"What we are facing today, in practice, none of us had. This is a challenge to your ego, a challenge to your psyche, your stamina, vitality and, probably, humanity."
Irina Ilyenko, cardiologist-resuscitator, Moscow
Everyone is short of air. Those who are locked up in endless quarantine, patients with coronavirus, their loved ones who cannot visit infected people, doctors and nurses in protective suits, medical personnel without protection, children, wives, husbands, parents who are waiting for their heroes.
Everyone is scared. Someone will get infected, someone will infect, someone will not get out, someone will not be able to save. And yet someone with all his might is saving.
"This is a battlefield. We went from nurses to soldiers. Even if it's scary, we all do it. It unites us, we go through it together".
Janett Perez, Nurse, New York
"Everything was blurred on one long day, where the lights were turned on and off outside. There are times when you are tired, and there are times when you slept. But there is always this feeling, on the one hand, of emptiness, and on the other, such childish happiness."
Andrey Bykov, anesthesiologist-resuscitator, Moscow
"Whenever we go to a patient, it is to make him understand:"I am here! You are not alone!"
Cheryl Martines, Nurse, New York
"When I go home, I think about maybe I should have stayed and helped some more."
Elizaveta Fadeeva, student of the Russian National Research Medical University
Doctor's wife, Ufa
From tomorrow our dad will live separately, for a minimum of contacts with children, my parents, his mother. Slowly going crazy at home. I don't even have time to watch all the webinars, concerts, programs. Remote consultations take all the time, read a little and now sew masks for those who have even less time. Do not ask for news from medical fields. Sew masks, please. I want to see my husband in a month, alive and well.
Doctor's sister, Moscow
He has been living at work for a month now, does not leave the hospital building at all, even to smoke on the street. He himself contracted coronavirus from patients. He himself prescribed treatment for himself, was isolated in the office, in the same hospital, in isolation, on Skype he received patients and gave instructions to the staff. His mood is different. He says that sometimes a working day begins with the fact that you have to bark at the nurses - they cannot cope with stress. Although he is usually calm, he never loses his temper. The surgeon operates on tiny children in general (before the virus). He does not answer regularly. He got hot there.
Doctor's Mom, Boston
- My daughter is a nephrologist, therapist and emergency doctor at the hospital. She will not be able to answer the questions now - she is too tired.
- Please tell us what your daughter dreamed about, how did she come to medicine?
- There were medical friends, but there were no doctors in the family. When she turned 14, a law came into force that allowed adolescents to be hired. Partly by accident, the daughter ended up in the "position" of the nurse of the ophthalmological department of the district hospital.
I had a secret idea - to show her the negative of the profession and destroy the childhood illusions associated with popular professions. But the next summer she was happily hired as a nurse in children's traumatology. Instead of rejection, the opposite happened to her - delight from the almost omnipotence of surgeons … Plus, a clear understanding, a doctor - these are interesting responsibilities and ample opportunities for decision-making ("the viceroy of God on Earth").

Her road to today's professional level is 15 years of study and internship. The demand for this profession is earned by hard work for many years. And the real value for society becomes visible in the most difficult periods of life.
- How is the work shift of a doctor different from the usual one?
- The most important thing is the precautions. Chemical protection military unit suit. The second - preliminary diagnostics for the bearers of the "crown" is carried out by the ambulance team based on external signs, the second check is at the entrance to the hospital.
Since the test will be ready only after 20 hours, the "suspect" is placed in a special ward, (individual ward), where he will receive assistance with his main illness. If the test is positive, then the patient will be transferred to a specialized hospital (there are only carriers of the virus).
The hospital where my daughter works is not specialized; it accepts patients with a wide range of diseases. General practitioners work 7 days in a row from 7 am to 7 pm. The next week they rest. There are night shifts. Specialists in their hospital have individual schedules (as visiting consultants). The therapist working on day shifts is available 24 hours a day, seven days. That is, he is responsible for his patients every second of their stay in the hospital.
- Are you able to keep in touch?
- Often, a reply to a message comes in a few hours.
- How does your daughter feel? What difficulties does he talk about?
- The tension has increased significantly. In addition to working overload, all doctors had problems with how to organize children, husbands and everyday life. This is additional pressure. The grandmothers went out of circulation because no one wants to expose them to increased danger from contact with a hospital employee. Neighbors also keep their distance and only communicate by phone. It is impossible to find a nanny for a "medical" family.
- How do you cope with worries about a loved one?
- Am I coping with feelings? Of course not. In periods when the level of stress exceeds the habitual life, it breaks where it is thin. The insomnia is severe against the background of the sixth week of quarantine. Depression rolls in a ninth wave. But … I stubbornly study English, exercise, write poetry at night. All thoughts about how the danger receded.
Doctor, Moscow
- How has your work changed with the onset of the pandemic?
- We are engaged in our profile, we treat, we operate. You cannot leave people because of the "crown". It all depends on the profile of the institution. We are currently in quarantine for 21 days. Accordingly, 24/7. Emergency hospitals are now working for survival. Many friends from urologists have turned into infectious disease specialists. For a day, 140-150 people are accepted for two. In full uniform for 8/12/24 hours - it depends on the shift … Both the sick and those in quarantine work. They live in a hospital and in hostels. The ambulance is working hard. I am sincerely proud of these guys and small, fragile girls who are in chemistry and ammunition for days on end!

- What's scary? Is there anything that pleases you now?
- I am glad that all patients have been operated on and are preparing for discharge. A lot of people got pneumonia! The guide provides everything you need! Infectious diseases hospitals accept patients and staff with transfers. Everyone, of course, has a hard time. No matter how you prepare for this epidemic, there are still unforeseen moments: difficulties with transferring to the regions, for example … The child, for example, needs to be transported to the train, issued a ticket, delivered to the destination and there already accompanied to the place of self-isolation. In fact: he cannot move in public transport. Although three smears are already negative … There is a bureaucratic factor.
Morally, it's hard in a closed building, but everyone, like family, supports each other. There are no problems with the provision of food and household goods. Basically, nothing scares me. It is frustrating that many are trying to unwind, cash in somehow on this problem of society. Breeding litigation! I would not call it otherwise like looting.
- What do you want the most now?
- I would like to go to my family as soon as possible.
- What can we do to help you save humanity?
- I would recommend citizens to observe physical and moral cleanliness. It's just a small infection. It will pass, and everything else that has surfaced will remain for a long time!
The weakest are the strongest. Transition point
- Darkness, Gulenka, is not terrible at all.
- Why, you can't see anything!
- It's just that you can't see anything at first. And then you will see such good dreams!
Elena Ilyina, "The Fourth Height"
The one who was born with it can exhaust fear. The path of development makes the most sensitive and fragile of the most solid in spirit.
The desire to become a doctor appears in people with a particularly sensitive soul. In childhood, such children are very scared in the dark, sorry for the spider and the cockroach, tears are always close, the soul trembles. It is the range of her trembling that determines her future fate.
An observant mother notices that the baby takes everything to heart. He tries to protect him from unnecessary worries, to protect him from adversity. But our psyche develops into its opposite, and for this it needs certain conditions.
For those with a visual vector, an innate reference point is a colossal fear for oneself. Such children do not know how to stand up for themselves, defend themselves with fists or rude words. They cannot hurt a living being because they are afraid for themselves. "I don't touch - and they won't touch me" - with such unconscious hope the first years of the life of the little owner of the visual vector pass.
Kindergarten, courtyard, school: life's challenges are increasing, they require more involvement in society. It will not work, and I don't want to sit under the table with wet eyes and shake with fear. For the owner of the visual vector, the only opportunity to transform his fear into energy for the realization of real desires is a creative action in relation to other people.
Himself overwhelmed with feelings, such a person is able to feel what others are experiencing. Someone injured his leg, but it seemed to him that he was in pain. Need help! Only the owner of the visual vector has an inner need to alleviate the suffering of another person, to save. Medicine begins with this desire. Tested compassion for others no longer allows the person with the visual vector to focus on fear for themselves. He feels the value of every human life in his heart, and if he acquires the skill to save it, it becomes a vocation.

"They talk to me the way I talk to you now. And after a few hours they can no longer breathe. This is the hardest thing I've ever seen."
Muhammad Siyab Panhwar, cardiologist, USA
Here comes the sun
The visual vector endows its owner with the ability to see at times more voluminous than the rest. Health workers, every minute sympathizing with others, see not so much the external manifestations, but the spiritual essence of another person. They feel inwardly, empathize and thereby relieve stress from patients. Have you noticed how we calm down when we trust? Medical indifference, emotional involvement in the patient's problem is the first step to recovery. Doctors have a hard time, but they support patients and each other.
In one of the hospitals in New York during the pandemic, a new code was introduced for the medical staff - the "sun code". Every time a person is removed from the ventilator and can breathe on their own, the Beatles song "Here comes the Sun" is played over the loudspeaker. And everyone starts to applaud, because this means that another person has overcome COVID-19 and will soon go home. Both employees and patients cry, united by a common hope.
Our ability to see, feel, act is aligned with our desires. If we want to support others, we find a way how.
"The doctors will definitely change, we will definitely change inside. So much more deeply we began to communicate with colleagues, so much more openly. All the best human traits in people were manifested. No one refused, no one went on sick leave. Everyone turned on. Although it is very difficult to switch surgical skills, the brain is in therapy. All support each other. Everyone cheers each other on. Shoulder to shoulder. We are really a team, and such a team cannot fail to win!"
Tatiana Shapovalenko, Chief Physician, Clinical Hospital, Moscow
"I don't want to be a hero, I want to work calmly and in a planned way (sounds strange for an anesthesiologist-resuscitator). But for the planned work you need to cope with what you have !!!"
Evgeny Syrchin, anesthesiologist-resuscitator, Ufa
We cannot see what we are not accustomed to. The situation forces us to accustom ourselves to see others, to feel together, in order to overcome the threat of coronavirus together. Sitting at home, donating blood, helping, being a support shoulder for those around.

Emotional connections are the only guarantee of an inner sense of security for a person. We all want to hug our loved ones and breathe out. When asked what determines the spread of infection, the Governor of New York State replied simply: "You determine, and I determine!"