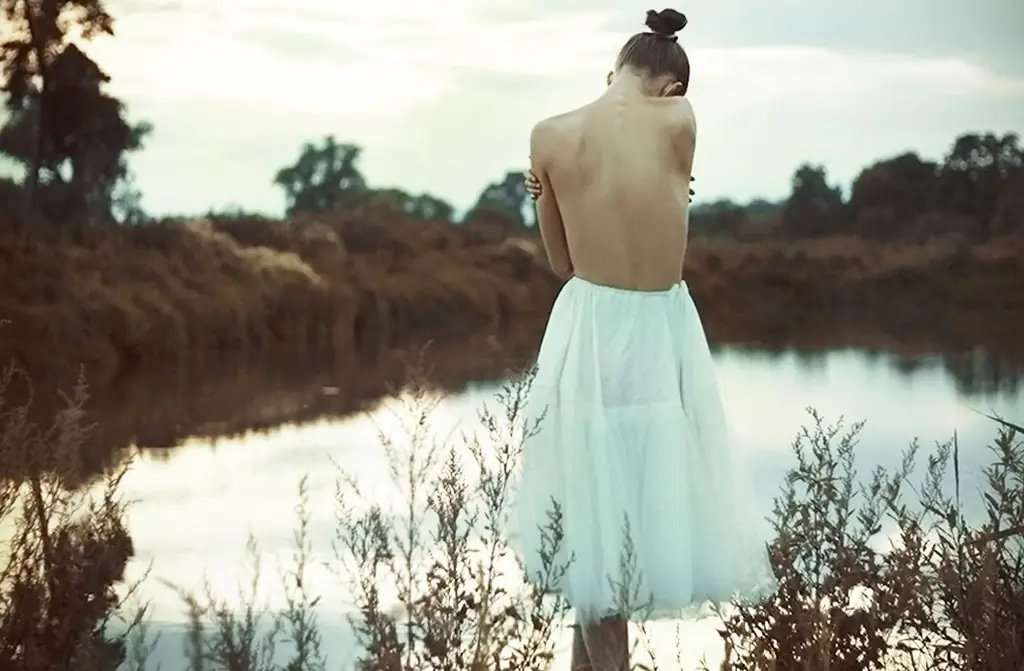 Why am I pinched during sex and feel nothing?
It seemed to me that I was in love with this man, but why don't I feel anything in his arms? Why, instead of losing my head from his kisses, I keep rolling in thoughts of how I look? Why am I shy in front of him? Why can't I have that delightful orgasm?
"I can't say that sex has never interested me. Of course I was. But I refused the guys for a long time. Was waiting for her man. And so he appeared. I heard from other women that intimacy, orgasm is something incredible! There is no greater pleasure! I was anxiously waiting for this to happen. But when there was an intimacy between us, I did not feel anything special. Moreover, it was unpleasant for me.
It seemed to me that I was in love with this man, but why don't I feel anything in his arms? Why, instead of losing my head from his kisses, I keep rolling in thoughts of how I look? Why am I shy in front of him? Why can't I experience that delightful orgasm?"
There is an answer to all these "Why" at the training of Yuri Burlan System-vector psychology.
Trust and closeness
If a man is guaranteed an orgasm, then a female orgasm requires certain conditions. To enjoy sexual intimacy, a woman needs to relax, and for this she needs to feel complete trust in a man.
Trust does not arise automatically and immediately. It becomes a natural consequence of the emotional bond that is created between a man and a woman. When you are completely open to your man with your soul, when mutual sincerity arises between you, the ability to speak heart to heart, then the body relaxes, bodily tightness goes away. Trust in a man helps a woman to open up sexually, to experience great pleasure from intimacy.

However, it happens that the relationship develops and it seems that the connection should deepen, but this does not happen. What is the reason?
Traumatized sensuality
In a couple, a woman is responsible for creating an emotional connection, since she is more sensitive, capable of being open by nature. She leads a man along the path of recognizing each other. This happens naturally if a woman is able to freely express her feelings.
But if her sensuality is traumatized or suppressed, the woman has difficulty creating an emotional connection. There can be many reasons for this.
Laughed feelings.
First love is a powerful impetus for the development of human sensibility. The first experience of strong feelings leaves an indelible mark on a person's memory. If this first sprout of the future ability to love is devalued - by parents, classmates, teachers - it is always associated with great heartache. Childhood traumas are often forced into the unconscious - a person may not even remember them. In adulthood, such a person will unconsciously avoid developing deep feelings.
Inspired distrust, developmental delays.
Parents often bring up a child in the key of distrust of the opposite sex, or the impossibility of creating normal relationships in principle, or otherwise create obstacles to the development of the child's sensibility.
For example, there are fathers who value purity in a woman most of all and want to protect their daughters from possible attacks on their honor. Or, for example, dad wanted a boy, a girl was born, and he raises her as a boy. By giving your daughters to karate, you not only instill the need to protect yourself from men, but also block the development of sensuality. The girl is taught to be harsh, like a boy, and the boys do not cry. Even if she has a visual vector, it does not develop. And when the time comes to open up to a man, to feel trust in him, a woman cannot do this.
The same happens when the child is forbidden to show feelings, ignore them, instill the idea that feelings are weakness.
Bad experience.
If you had to go through a rupture of an emotional connection with a loved one, especially if it happened before the maturation of the psyche, that is, before the end of adolescence, then this can leave an imprint on further relationships. Consciously, a person may want to love, to be able to love, but the unconscious does not allow it to be done, over and over again repeating an unsuccessful scenario or even not allowing a relationship to start.

Feeling - Trust - Orgasm
Yuri Burlan's System-Vector Psychology training will help you work through and realize all that prevents you from loving and feeling. When the received psychotraumas are realized, that is, they are transferred from the sensory sphere to conscious perception, then they lose their negative influence.
The result is the ability to build deep, trusting relationships in a couple, the disclosure of the sexuality of a woman, and a man as well, the ability to feel an orgasm like never before. Here's what the women who completed the training write in their reviews:
We invite you to a free cycle of online classes to get to know more about System Vector Psychology and take the first steps towards your happiness.