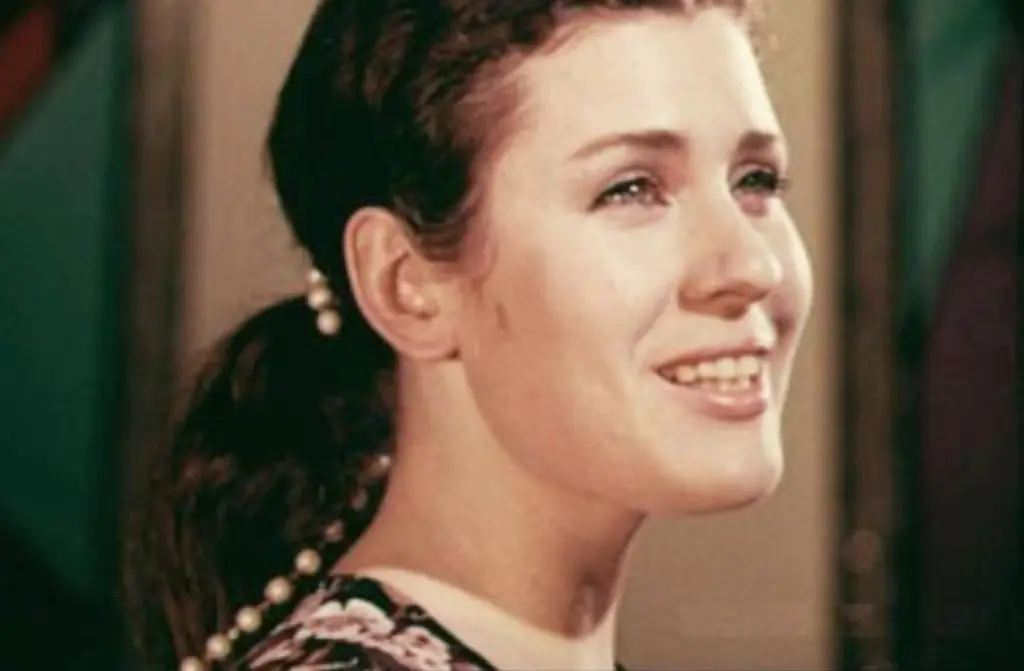 12 July Birthday of People's Artist Valentina Tolkunova. Part 2
There was not a single male representative in the Soviet Union who did not like Valentina Tolkunova. She, like a real skin-visual singer, smelled what is called "all over Ivanovskaya" as something tempting and unrealizable, and invariably gathered full halls of constant admirers, and that was her whole life …
Part 1
The second husband of the singer was international journalist Yuri Paporov. Their son Nikolai was the only child of the People's Artist. But Valentina did not succeed in long-term female happiness in her second marriage.
When his son Kolya was 7 years old, Yuri Paporov went on a long business trip to Mexico. Although the couple never formally divorced, they lived in separation for almost twenty years.
Tolkunova could not leave with her husband, she said that she could not carry hundreds of thousands of her viewers with her. She was a truly Russian woman, whose soul has always belonged only to Russia.
From childhood, the son of Nikolai had a rather complex character. The boy lived practically without parents. My father worked in Mexico, my mother toured a lot, so Kolya almost always lived with his grandmother. Apparently, this childish resentment against the mother and led in the future to a difficult relationship between the singer and her son. All her life Valentina pulled him out of various troubles, treated him, provided an opportunity for existence, bought apartments. But I always regretted that I did not pay enough attention to him in childhood. After all, in fact, she loved him madly!
Later, Valentina Tolkunova said: "I can only say one thing: do not leave your children unattended, always be there, give yourself to them without a trace. Otherwise, you will pay cruelly later."
In 2003, Yuri Paporov finally returned from Mexico, an elderly and very sick man. But Tolkunova stayed with him until the end, and he survived his wife by only a month and a half.

What is the ideal visual skin woman?
- What is a woman ideally? - Tolkunova was asked once.
- I am not inclined to see authority in a woman, I want to command. I respect such women, they even have some kind of masculinity, but still I want to see softness, insecurity, meekness in a woman.
The singer's mother, Evgenia Nikolaevna, said that when Valina's career began, constant problems began to happen with her fans. Men without exception fell in love with a dream woman, and their wives constantly made scandals about this. When the singer came to another city with concerts, the entire male population abandoned their affairs and, by hook or crook, tried to get tickets for her concert.
How can you resist? There was not a single male representative in the Soviet Union who did not like Valentina Tolkunova. She, like a real skin-visual singer, smelled what is called "all over Ivanovskaya" as something tempting and unrealizable, and invariably gathered full halls of constant admirers, and so it was all her life.
The visual vector is an amazing mental phenomenon, which is based on fear. Great fear of death. Developing and growing into its opposite, it makes a person fearless in everything that can overcome death. But only love can resist death. And beautifully developed skin-visual women, like Valentina Tolkunova, fill the lives of people around them with endless love, staying in which, you can protect yourself from fears.
This love can be not only in the relationship between a man and a woman. Love for the Motherland, nature, God, love for children is the most natural.
Singing on stage with children and for children is another individual creative trait of Valentina Tolkunova. She was very worried about the younger generation, about the development of young people. Whenever possible, she took part in youth programs and programs.
Skin-visual women are precisely the people who are responsible for the cultural development of humanity. Their psyche is designed in such a way that they feel their responsibility to maintain a cultural and emotional connection between people. For this reason, the development of children and adolescents is a natural, natural application of the forces of skin-visual teachers, actresses, and singers.
And one more thing, the very use of the skin-visual talent - to raise the fighting spirit of soldiers, and then return it to a peaceful course, remember? So, in the 80s, Valentina Tolkunova sang in front of Soviet soldiers in Afghanistan, and in the 90s she went to Chechnya with concerts. But she also performed in hospitals, sang for charitable and Orthodox foundations, even sang in a women's prison and gave free concerts for ordinary people in the usual Tula city courtyard.
And yet, her personal vocation was to call for peace, goodness and light. Once, speaking in the Kuban, Valentina Tolkunova right on the street, taking a loudspeaker from a policeman, addressed the people. She asked them not to incite war, asked not to shed blood on the Kuban land. And, taking the microphone, standing in front of the excited crowd, she began to sing "Talk to me, Mom."

Completion of the path and folk memory
In the 2000s, Tolkunova's repertoire was replenished mainly with spiritual songs, she supported the restoration of churches, gave charity concerts. Valentina Tolkunova was a very religious person and always kept the commandments. Chief among them believed that despondency is a sin. When in 2009 she fell seriously ill, she continued to give concerts and record the musical performance "How to be happy."
At her last concert in Mogilev, Valya, Valechka, Valyusha Tolkunova read poems by Karina Filippova. I read, barely standing on the stage, holding on to the music stand, forgetting the words, but I read to the end - artistically, beautifully, with absolute devotion to my beloved viewer:
"Don't hold pennies in your fist, Give it to the world
Grace descends into open palms
That you will send along the river to the sources, -
At the mouth it will catch up.
Order evil -
You will get everything in full …"
Valentina Vasilievna Tolkunova will forever remain a popular, beloved singer, who gave love from the stage and had a rare visual gift to involve the audience in every performance, awakening the best feelings in people.
Soon after the singer's departure, the poet Andrei Dementyev and the composer Vladimir Vovchenko dedicated the song "The Sunny Woman of Russia" to her, which is now played at all evenings in memory of her beloved folk singer Valentina Tolkunova.
All people who love her say that Valentina Tolkunova is, indeed, the golden voice of Russia. But, most importantly, she is the golden soul of Russia. This is how they perceive her and feel this way, which means that Valentina Vasilievna fulfilled her natural role, she kept people as best she could, uniting them into one whole - a single human soul.