"Black Swan" (BlackSwan)
Already an adult girl, Nina still lives with her mother, her room is decorated in pink tones and stuffed with soft toys, her mother puts her to bed in the evening and gives her a ballerina doll before going to bed. Nina's visual vector did not develop, remaining in natural fear.
We often witness how parents, sometimes unwittingly, create certain life scenarios for their children.
Recently, at the Yuri Burlan's system-vector psychology forum, Bergman's film "Autumn Sonata" was discussed about the complex relationship between a skin-visual mother who chose a career and her anal-visual daughter with a life scenario of "resentment against her mother." The film "Black Swan" (Black Swan) shows another version of the relationship "mother and daughter": a skin-visual unrealized mother, a failed ballerina who has devoted her life to the same skin-visual daughter.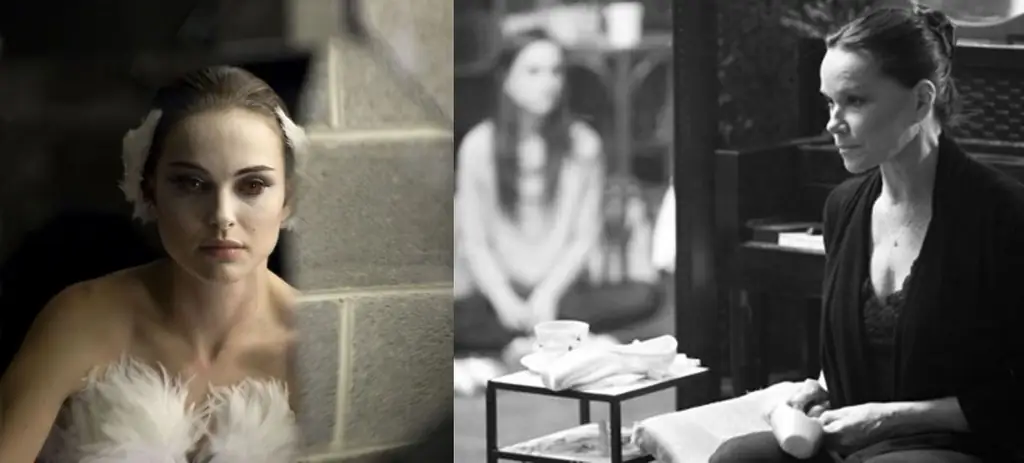 A successful ballerina, or …
Nina, an aspiring ballerina, successfully studies at a ballet school. She devotes all her time to training and achieves an excellent performance technique, thanks to which Thomas Leroy, a French director, chooses her for the main role in the new play "Swan Lake". Soon he introduces Nina at a reception as the new prima of the theater. It would seem that a wonderful career for a young ballerina is guaranteed.
At the same time, the film shows not a successful realized ballerina, but a girl with undeveloped vectors. Her visual vector is in a state of fear, and her skin vector is with obvious masochistic tendencies, irrational self-control and limitation.
Nina's childhood is not shown in the film, but the fact is obvious that an unrealized mother, constantly reproaching her daughter for everything ("Instead of a career, I chose you"), is trying to live the life of her daughter, making her the ballerina she dreamed of becoming. At the same time, the mother cripples Nina as a person. An unrealized skin-visual woman will behave this way: either she shouts to the right and to the left that she sacrificed her family for a career, or, as in the case of Nina's mother, she will reproach the family for not choosing a career.
Natural visual fear
The film is surprisingly systematic, although at first glance it may seem to someone that this is another horror story. Natalie Portman perfectly conveys her state of fear and visual hallucinations to the viewer. Entering her fictional world full of horror, we systematically understand that what she is experiencing is not a hoax, but her own fantasies, her distortion of reality.
As a grown-up girl, Nina still lives with her mother, her room is decorated in pink colors and filled with soft toys. Mom puts her to bed in the evening and gives her a ballerina doll before going to bed. Nina is all directed at ballet, in addition, she is surrounded by super care. As a result, Nina's visual vector did not develop, remaining in natural fear.
In a state of extreme stress, Nina has no properties to withstand it. For this reason, the girl begins to experience visual hallucinations: it seems to her that her toes are stuck together, then it seems that the skin on her finger is peeling, etc. "Scary pictures" pursue Nina when she is left alone: blood, darkness, a reviving reflection in a mirror, a monster, etc.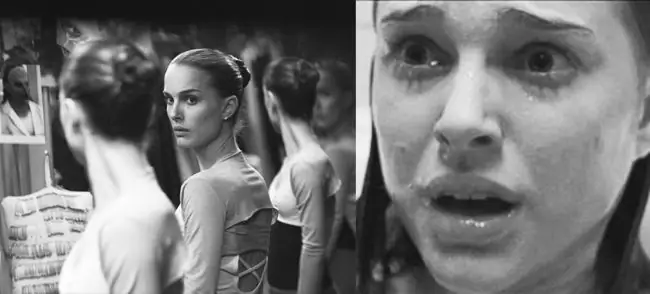 Typical visual fears are shown very systematically, for example, the natural visual fear of the dark - in the scene where Nina rehearses for the last time before the premiere: she is alone in a dark hall and is frightened of her reflection in the mirror.
Total parental control
The total control of the mother over her daughter leads to the fact that the girl does not develop at all in her vectors. She does not communicate with anyone, lives, in fact, in a closed world: she has no friends, no boyfriend, she does not go anywhere. Nina's whole life is limited to home and theater rehearsals. Naturally, a girl, isolated by her mother from the landscape, does not learn to adapt it. The mother checks her every step, constantly calling her and demanding the same from Nina, makes the girl strictly observe the regime, practically does not leave her alone with herself. Mother examines Ninino's body as a personal property. There is not even a question about who Nina will become - she must grow up as a new prima.
Nina, as the owner of the skin vector, learns only to "obey" and does not know the property of "subduing", which is equally important for the full development of the skin vector. All Nina has learned is to obey her mother and obey her commands. Not seeing an example of a developed rational skin in front of her, Nina herself lives in irrational self-restraint and self-control. She cannot relax because she has no sense of rationality. The undeveloped skin clearly manifests itself in masochistic tendencies: Nina constantly hurts herself, hurts herself, scratches herself until she bleeds.
Unadapted terrain
Nina cannot bear the stress and pressure from the outside associated with the new production of the play. Unrealized skin cannot adapt to the tough skin landscape with its competition and struggle for survival. There are a lot of rivals, envious people around, Toma is dissatisfied with Nina, criticizes her for being cold. Nina is struck by the news that Lily, her main rival, has been appointed as a backup ballerina for her role: Tom sees that Lily can play what Nina, a developed seductive skin-visual female, cannot.
Nina is skin-to-skin precise in dance, she has excellent technique, but she lacks sensuality, she cannot play a black swan, because her visual vector is absolutely undeveloped and does not allow her to be realized on stage. Toma senses this and reproaches Nina for her frigidity.
Fearful vision, complete irrational control over oneself, over one's emotions, over feelings, "skinny", "tight" skin, sexual frustration - all this prevents Nina from performing a truly sensual dance of a black swan - a tempting female.
Unconsciously trying to visually "anchor" herself to the "talisman", Nina sneaks into the dressing room of Betty, the former prima of the theater, and steals from there her lipstick, powder and other items (theft is another sign of unrealized or stressed skin). "I wanted to be like you and thought that they would bring me happiness," she admits to Betty when she comes to the hospital because of superstitious fear before the premiere.

Too late…
Nina begins to realize that she needs to relax, to let go of her skin vector from under the total irrational self-control. On Tom's advice, she tries to masturbate, but the sight of her mother sitting in a chair falling asleep in her room stops her. At the same time, it is not clear from the film whether this scene is Nina's hallucination due to the fact that the mother really often spent nights at her daughter's bedside, or whether she actually fell asleep next to her daughter. In any case, this scene very well shows Nina's inner feeling of her mother's total control over her, the inability to relax and be alone with herself even in the most intimate moments.
When Lily comes to Nina and invites her to the bar with him, her mother tries not to let her in, but the girl probably for the first time in her life does not obey her. Whether Nina came back from the bar alone, and the scene with Lily was her hallucination, or whether they came back together is not so important. Nina is trying to free herself from the fear that prevails over her, to "let go" of the skin vector, but by this time she is already an adult, developed person, and it is too late to try to fix what was crippled before and during puberty.
In the final scene at the premiere, Nina wounds herself in the stomach with a piece of a shattered mirror, believing that she killed Lily (which, again, was just her visual "horror story" - a hallucination).
She performs beautifully, having finally felt her heroine to the end, having managed to combine technique and sensuality, but of course, she will not be able to get out of skin masochism and fear brought to the apogee in the visual vector.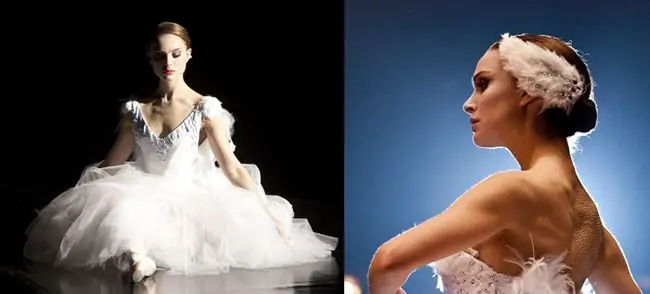 If you are interested in considering the psychological characteristics of the heroes of famous films, literary works, as well as your own psychological properties with a systemic view, you can register for free online lectures on System-Vector Psychology by Yuri Burlan at the link: