How an adult can push their fear out
When an adult with fears realizes that his condition is fear in the visual vector, it becomes possible to fight it. If you can't fall in love, then create an emotional connection in which you can initially feel compassion.
Fear is an unpleasant, difficult condition from which many men and women with a visual vector suffer. They are afraid for themselves and for others (although "for others", in fact, in terms of themselves). It can be difficult for them to look into the eyes, internal anxiety can fill up so much that it paralyzes completely. And we are so tired of this anxiety that there is no strength left to do anything else.
Spectators are trying to get rid of such conditions. And they get into the offices and reception rooms of fortune-tellers, astrologers, etc. This audience literally parasitizes on visual fears. The only problem is that fears are not removed in this way. The visual person gets short-term relief from the hopeful predictions of fortune-telling on coffee grounds or tarot cards, sometimes it even gives them the illusion of a positive result, but he is never persistent.
The need to go to a fortune-teller is felt mainly by those visual people who have not fully realized their emotional potential, but sometimes such a need can arise in fully realized people, due to overstress. Getting into overstress, even a "love" viewer can fall into fear. The loss of realization always leads to an increase in fears that did not previously play a significant role in life, but if they are not realized, they come to the fore.
There are also visual people who, from childhood, are accustomed to filling their emotional amplitude exclusively with fear. Horror movies are for them. Sitting and being afraid is their forced emotional filling, due to the impossibility or lack of the skill to achieve adequate implementation of the visual vector.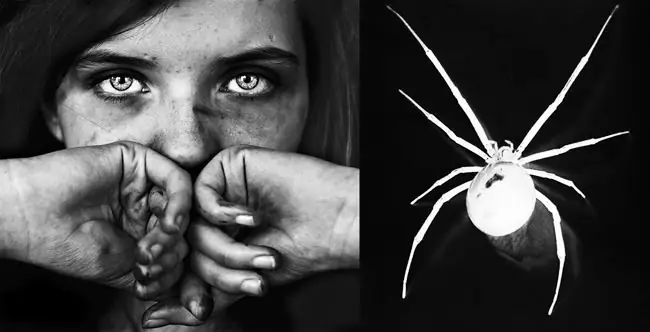 The inherent fear in the visual vector is overcome when we emotionally "go outside".
When we push fear outward, we begin to feel compassion. Through even greater compassion, the visual vector reaches its highest state - love. Compassion can be called the first step in bringing fear out. There is still a lot of fear in it, because fear is the root. Pushing fear out through sincere empathy, feeling the euphoria of love, you can completely and completely get rid of fears. "I love it so much that it's not scary to die!"
There is no such famous combination of "love - hate". Each vector has its own peaks: in the skin vector - the peak of anger, in the anal vector - the peak of cruelty, in the urethral vector - the peak of anger, in the muscle vector - the peak of rage. Love is the peak in the visual vector, the opposite of fear. There is no relationship between love and hate, there is a direct relationship "fear - love". We feel fear inside ourselves, and love outside, when we focus our attention on other people, their feelings and experiences. When there is love outside, there is no room for fear inside.
What should adults do?
Adults, like children, need to bring their fears out. Children do this unconsciously, trying to create an emotional connection with their parents, and when it does not work - with a plush toy, cat, dog, hamster … This emotional connection gives them the opportunity to bring their feelings out, to experience love and compassion.
When an adult with fears realizes that his condition is fear in the visual vector, it becomes possible to fight it. If you experience constant fears (fear of creating a relationship, fear of falling in love, etc.), then you need to experience compassion. If you can't fall in love, then create an emotional connection, in which you can initially feel compassion, empathy.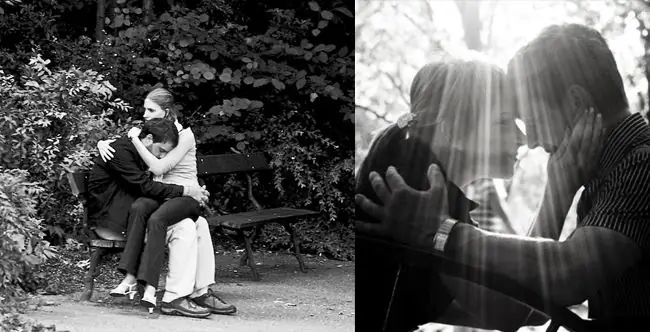 This connection can be obtained from a person who is unable to take care of himself and is unable to give you something in return. You can get a job as a volunteer in a home for the elderly, disabled, abandoned people, sick people who live out their days there. People who find themselves in these places find it difficult to serve themselves, take care of themselves on their own. Show empathy - sometimes it gives more relief than any medication.
When you emotionally support a person who is in a difficult life situation, you somehow create an emotional connection with him, because the visual person is drawn to this by nature. When that connection is made, that person begins to inspire compassion in you. This does not happen immediately, but when you invest something in it: your time, your energy. Instead of going to the cinema, the spectator chooses to go to an elderly person whom his own children have not visited for the past twenty years. You create an emotional connection and experience compassion. It's very simple and powerful. When you feel this compassion, you will notice that the fears begin to go away, you will learn to push your fears out in this way. You can call it a certain skill, which will be the impetus for your further implementation. This skill will remain with you forever.
Many people choose the "easy way"
Making an emotional connection with another person is the most difficult task for the viewer. Many go the easy way, replacing the emotional connection with people with the connection with animals. Everyone knows elderly women who have sheltered twenty cats. Thus, they unconsciously try to remove their fears, rationalizing it by the fact that cats need help, compassion. However, love for a cat is not able to give such feedback to remove all fears, because this is a low level of realization of visual senses, therefore, cats need twenty, thirty, or even more to calm anxiety.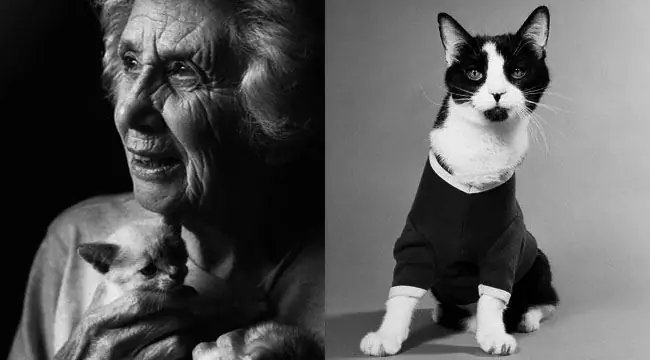 If you say to these people: "Look, there are unhappy old people sitting there, here are homeless children," - no reaction will follow from them. They do not feel that they can help in this case. And some of them will still tell you: "Yes, people are worse than animals!" …
Spectators can be very squeamish, especially to food, smells. They are the best at consciously distinguishing between smells: the smell of orange, the smell of French perfume, the smell of garbage. Spectators are especially disgusted with bad human smells. But the amazing thing: as soon as the viewer gets to a place where there is an opportunity to create a free emotional connection, the disgust quickly goes away. Even my grandmother, keeping twenty cats in the house, does not pay attention to the stench they create. The discomfort from bad smells is reduced when an emotional connection is created.
Also with fortune-tellers, astrologers, clairvoyants, healers, with all this army of parasites on the visual soul. It's all about the emotional connection! And in suggestibility, hypnotizability. Frightened spectators believe in aliens, believe in predictions on the coffee grounds. They create an artificial connection with the image in their head: "Look, a flying saucer!" But no one but them sees her.
No cats! An emotional connection must be with people!
Yuri Burlan's training "System-vector psychology" will help you get rid of fears and open new facets of feelings. Register for a free online training here.